If you want to welcome your little one most grandly and memorably possible, why not do it through a newborn photoshoot?
A newborn shoot does not only allow you to have beautiful newborn photos of your baby. But it also helps you have the most beautiful decorations to put in your family photo wall or your desk decoration.
Many families have tried doing a newborn photo session as a way to welcome the new addition to their family. And while everyone is up for some photo session, sometimes you can't help but question why most newborn photoshoots are done when your baby is asleep. Let's dig deeper with this post.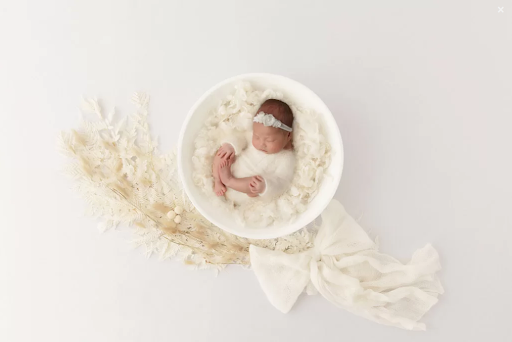 Why Are Newborn Photoshoots Done Asleep?
The best time for newborn photos is during your baby's first to two weeks. This is when your baby is still sleepy — which means it will be a lot easier for your photographer to capture their photos without them being fuzzy or throwing a tantrum. Getting your newborn photos during your baby's first 14 days is a lot better than an 8-week-old photoshoot.
But aside from that, it can also be because of some factors such as:
Photographer
It highly depends on your photographer's style. Some photographers focus more on the poses of your newborn so they must move your baby around to give them the best poses and angles possible. And the only way for them to move the baby around without much trouble is when your baby is still in its sleepy state.
Lighting
Lighting is one of the most important elements in photography. You will be able to have the best photos when your lighting is good. When your baby is sleepy, it will be much easier for your photographer to move them around to get the best lighting and angles.
Positions
When your baby is asleep or sleepy, the photographer can easily curl them up so they can have that unique and typical newborn ball position. Aside from that, sleepy babies can also help the photographer achieve a broader range of different positions.
Poses
Sleepy babies are easier to move around — thus the photographer can easily change the positions of their arms and feet. This can also help in giving them different poses during their shoot. And the more poses your baby makes, the better your photo selection will be.
Details
Another reason why newborn photographers tend to take photos of newborn babies during their sleepy state is because of the details. When your baby is fast asleep, it will be easier for the photographer to take shots of different parts and details of their tiny bodies — big or small.
At Siobhan Wolff Photography, we have a professional photographer who wants to take every detail of your little one for you. It doesn't matter which part of the body it is — as long as it involves your little one and makes the parents remember every single detail about them, then Siobhan Wolff Photography got you covered.
Experience
Lastly, many newborn photographers like to take pictures of newborns while they are asleep because it will be an easier experience for both the baby and the parents.
We understand that there is a deep connection between the mother and the baby. So, when the mother sees the baby being carried by a stranger and making them cry, they will naturally react to their distress — which is why scheduling a newborn shoot while the baby is asleep is much easier.
It will not only make the shoot a lot faster but it can also be a fun and stress-free experience for both the baby and the parents.
If you are thinking of having a newborn photoshoot with your little angel, the best time to do it is during their first to two weeks. And if you're looking for a professional newborn photographer, you can contact us today at Siobhan Wolff Photography.
We offer other services like: Newborn Photography Point Cook ,Maternity Photography Point Cook ,Bump To Baby Photography Point Cook . – Contact us now!