A baby girl photoshoot is super easy to conceptualize. There are tons of themes or newborn photoshoot ideas for your baby girl today. You can find them anywhere on the internet – like Pinterest – or you can think of a unique concept for your baby girl.
If you're planning to have a newborn shoot for your baby girl, here are some of the best newborn photoshoot ideas and tips that can help.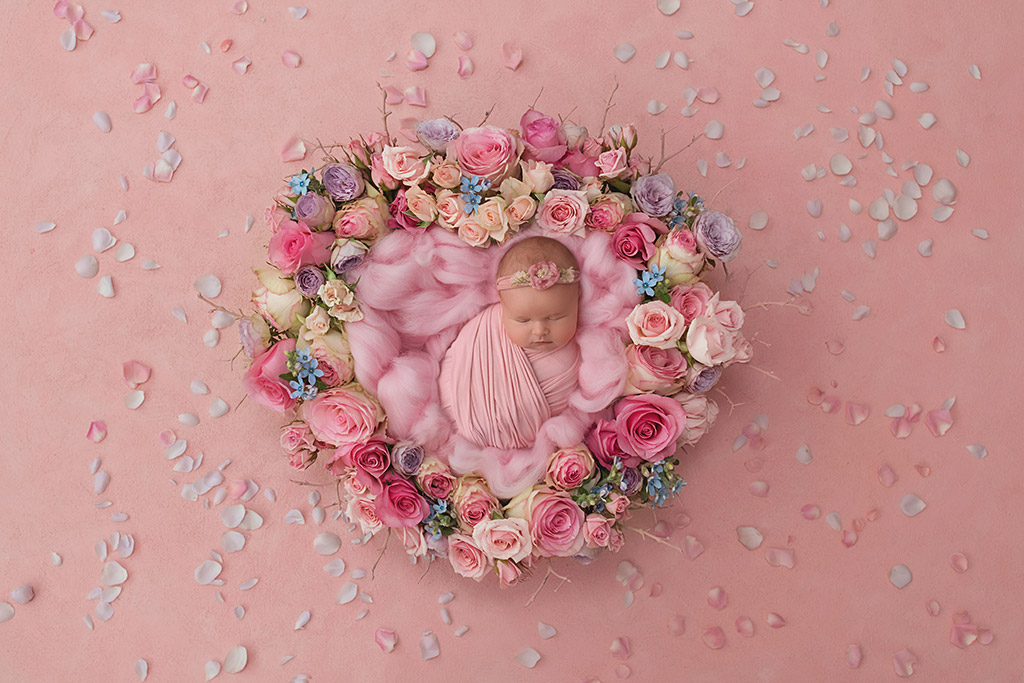 How to Have the Best Theme for a Newborn Photoshoot
Find Someone with the Right Skills
Every photographer has their photography style and skill. And with that, there are also different styling ideas for your baby girl's photoshoot. That's why it's very important to find a photographer that can help deliver the style that you want.
When looking for a photographer, make sure to check their website and their portfolio to see if the style of their photography matches the style that you are after.
Talk to Your Photographer About Your Style
If you have a concept in mind, make sure to tell it to your photographer. Let them know and explain what kind of setup you like. Do you want to have a natural and simple styling for your baby girl where she can be the main focus? Or perhaps do you want a much more creative setup filled with wonderful and bright colours where your baby girl can shine?
Whatever concept you have in mind, it's best to communicate it with your photographer so you and your baby girl can have a successful newborn photoshoot.
Think of the Right Concept
There are thousands to millions of concepts and ideas for your little girl. So it's quite understandable if you're feeling kind of lost.
You can start by thinking of a certain colour or colours. Think of lovely pastel pinks and purples or other colour pallets that you prefer. Remember that when choosing a colour palette, there is no limit to the colours – which means that your baby girl can also rock blues and yellows and other colours as well. After all, gender has no colour.
Accessorize. Accessorize. Accessorize.
Accessories and props are very important. Even if you want your little girl to have a simple newborn photoshoot, accessories are still crucial because they make your baby girl's photos look complete.
You can add simple accessories like a headband for your little girl, bonnets, and romper sets as well would look lovely. For mothers who want to have a more creative approach, you can add flowers to the background or even balloons.
There are so many ways to accessorize your baby girl's newborn photo shoot – you just have to know what props will look best with the concept you have envisioned.
Baby Photoshoot Ideas
If you are looking for the right theme for your baby girl's photoshoot, we hope that these newborn photo ideas and themes can help.
Rainbows and Unicorns – This will look super lovely with your baby girl's photoshoot. You can even add some rainbow-themed cupcakes on the side to add extra sweetness.
Barbie – Who doesn't love Barbie? If you want to bring out the most feminine side of your baby, you can try incorporating Barbie-themed accessories into her shoot.
Flower Power – Flowers always make up for a great concept. Just make sure to use plastic flowers instead of the real ones. Babies are very sensitive and real flowers may cause an allergic reaction.
Beach Party – Bring out your baby girl's cuteness with a beach party-themed newborn shoot. You can add sunglasses and some juice on the side and you're good to go!
Retro – If you like old-fashioned concepts, you can try going retro with your baby girl.
There are so many concepts to choose from to make your little girl's newborn photoshoot more wonderful. You just have to make sure to choose the right photographer and props to make it a success. Get in touch with us at Siobhan Wolff Photography if you're looking for the perfect photographer who can make your dream photoshoot come true.