If you want to have a successful newborn photoshoot together with your partner and baby, you need to make sure that both of you are prepared. One of the first few struggles of a newborn photoshoot is that sometimes, newborns don't want to be held by other people except their mothers. That's why it's very important to let the father and baby bond first.

Here are some tips that can help baby and daddy bond with each other for a more successful and memorable newborn photoshoot.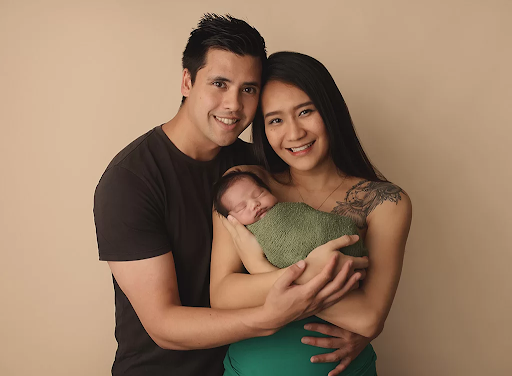 How to Bond with Baby
It's very natural to feel overwhelmed after realizing that you are now a parent. If mothers get overwhelmed, especially first-time mums, then what more are the fathers. Some fathers feel very useless after seeing the immediate bond between the mother and the baby (mostly because of breastfeeding).

So, here are a few tips to help dad and baby bond.
Change Nappies
Bonding with baby doesn't only mean you have to be with them through their most relaxed moments. You also have to be with them in other situations like changing their nappies. When a father changes a baby's nappies, this will make your baby know that another person, aside from their mother, is also taking care of them.
Be Involved with Bath Time
Bath time is one of the first fun and memorable experiences for all babies. When a father is involved during bath time, your baby will likely remember your scent and face and will incorporate you with fun as well. So, when they see you the next time, they will immediately think of bath time and fun!
Getting Dressed
Getting your baby dressed is also a great way to bond with them. When you dress your baby, you are showing them that you love them and take care of them. Moreover, getting dressed is all about making your baby feel good and being gentle with them.
Getting Baby to Sleep
When a baby is full, they tend to feel sleepy. So, if you want to make sure that your baby feels safe with you, you can try bonding with them by helping them fall asleep.

Start by carrying them once they are full of their mother's milk. Learn how to settle your baby to sleep and soon after, they will start to feel more relaxed and safer around you. This is by far one of the easiest ways to make your baby get familiar with you.
Cuddles, Cuddles, and More Cuddles
The best way to bond with your baby is to cuddle with them. During their first few days and weeks, babies are more prone to touch and warmth. This only means that they familiarize people not through their faces but with the sound of their voice and the warmth radiating from that person's body. Since they are still getting accustomed to everything, try to cuddle your baby as much as you can so they can familiarize your scent, your voice, and the way you make them feel safe and warm.
Taking Baby for Walks
Taking babies for walks in the pram can also be a great start to bonding with them. Your baby needs to breathe in some fresh air and see other colours around them.

If you want to make sure that they like being with you, try taking them for walks in their pram. You can go around your neighbourhood or visit your local park to let your baby see more colours and get some fresh air.

Once a baby and a father have that specific bond, they will be inseparable. And when a baby and father are close, they will be able to have the best and most wonderful newborn photos together. If you're looking for a professional photographer who specializes in newborn photography, contact us today at Siobhan Wolff Photography and book a schedule now.