Now that your baby has finally made its grand entrance, it's time for you to get on with your newborn photoshoot.
It won't take long before your baby grows old and you will soon have a toddler running around your house. So to remember their little phase where all they need is your cuddles and warm hugs, book your newborn photoshoot now to preserve these moments into pictures.
And if you don't know how old is too old for your baby's newborn photos, here is a guide we made to help answer your queries.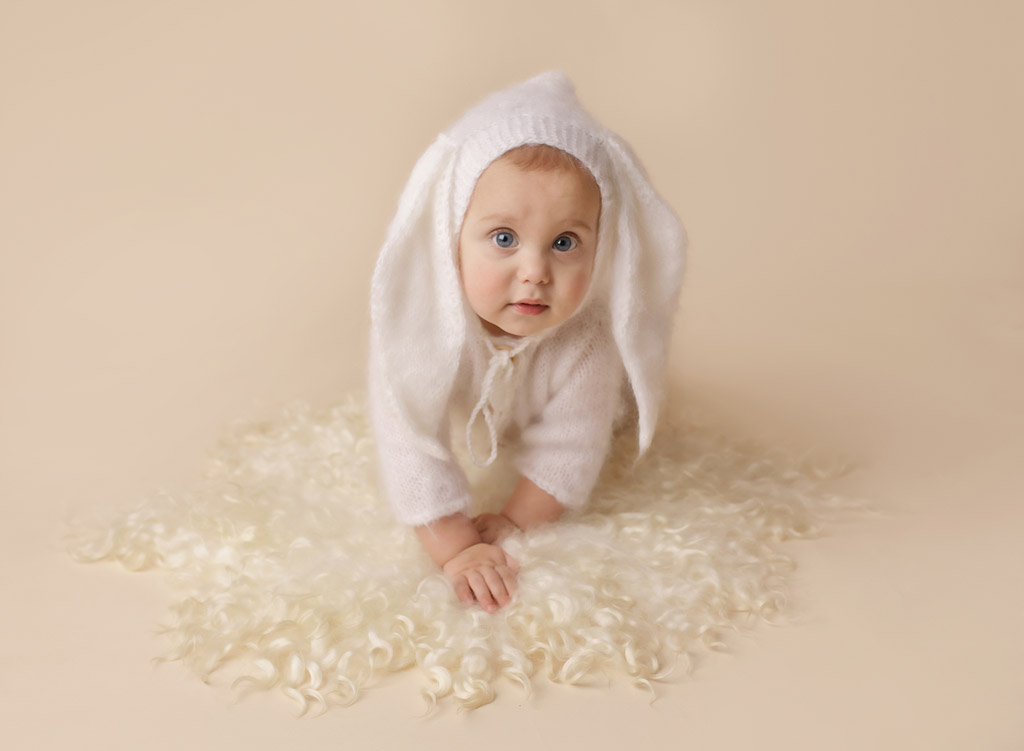 The Best Time To Do A Newborn Photoshoot
Newborn photoshoots can be done at any age.
But if you want to achieve that typical cute tucked in and curly pose, having your newborn photoshoot done before your baby is three weeks old would be the best choice.
Babies are normally asleep during their first 14 days so it will be a lot easier for your photographer to place your baby in those cute poses that are best for the newborn photos.
You can also move around more if you have a sleepy newborn with you.
What's more, is that feeding time and breaks are more predictable as newborns have a specific duration when they need to drink their milk. This can also help your newborn photoshoot run smoothly and finish with a blast.
How Old is Too Old for Your Newborn Photoshoot
Having your 4 to 5 weeks old baby do a newborn photoshoot can still give you good results.
However, this will likely depend on your baby's mood. Some babies are wide awake and don't want to be put down. Others are calm and are satisfied with their mother's presence right beside them.
That's why we highly recommend finding a professional photographer that knows what's best to do during your newborn photoshoot. At Siobhan Wolff Photography, we have a professional photographer who has tons of experience in handling babies so you can put your trust in us to make your newborn photoshoot a complete success.
Now, the much harder part is during your newborn's 6 to 8 weeks phase. This time around they are quite grumpy and would always look for their mother's smell. Although you are with them during the whole shoot which is a great thing, however, taking their solo pictures with them alone would make it a bit harder for your photographer.
As we said, it would still depend on your baby. Most babies during this time are always alert so you should ask your photographer first if they can manage to do a newborn photo shoot with a 6 to 8 weeks old baby. Sometimes it will depend on your photographer's skills.
Newborn Photo Shoots During 7 to 9 Months Old
We have mentioned this before, newborn photoshoots can be done at any age.
So if you still want your newborn to experience those cute and fun pictures with them sitting down and doing various poses, you can ask a professional photographer to let your 7 to 9 months old baby do his or her late newborn photoshoot.
Some photographers would love to have a photoshoot done during this age as the baby can now interact well with other people, especially in front of the camera. You can check out this video to let you learn how to get your child to smile in front of the camera.
Babies are cute and we love them with all our hearts. And the best way to let them know this is to capture these intimate and cute moments on camera to commemorate them in the future. You can even let your grown-up child see their newborn photos sometime in the future to let them know how much they mean to you. And for the best newborn photography services in Melbourne, you can always contact us at Siobhan Wolff Photography.
Also see our other services like: Newborn Photography Brighton, Maternity Photography Brighton, Bump to Baby photography Brighton, Cake Smash Photography Brighton, Family Photography Brighton.