A child is always a welcome blessing in your home, and that is usually a cause for celebration. To some, having a child opens a new door for life.
Of course, every parent wants to capture their children at every stage of their lives, and a newborn photo shoot is the best way to start that journey.
Photos can give you that nostalgia when you look at them, which usually lasts a lifetime. A professional photoshoot can increase that feeling a hundred times. It also leaves a lasting impression on your family and friends that you will surely appreciate in the future.
If you're unsure when to get newborn photos of your cute bundle of joy, we have you covered with this comprehensive guide below.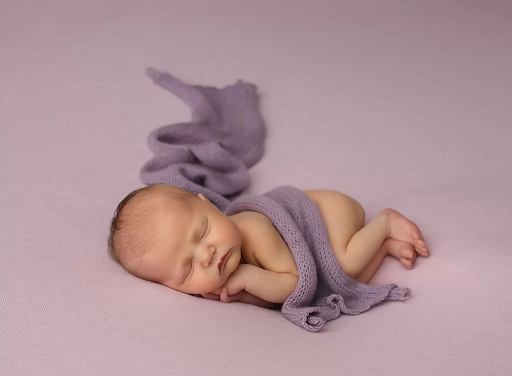 When is the Best Time to Schedule a Newborn Photoshoot?
The best age for newborn photos would be when the baby is a week old but not older than 3 weeks old. This is why it is best to schedule a photo shoot during the late stages of pregnancy, so you and your photographer have more leeway to work with.
If you missed your 3-week window, don't worry! Older babies are still charming to work with, but they can be harder to photograph since they're more active than newborns.
That means they have less flexibility with their positions and poses since they're much more active than their younger counterparts. They generally don't stay in one spot, and that's okay since babies are healthy that way!
When Should You Do Newborn Photos?
The best time to take newborn photos would be when the baby is well-fed and very sleepy. That way, both the parents and the photographer save a lot of time since a sleeping baby can be positioned without the hassle, and you can avoid the tantrums that might come with an awake baby.
We should especially avoid triggering tantrums since babies cry more for the first 3 months of life. That being said, it's fortunate that babies are in a sleepy state for the first six weeks of their lives, and they're incredibly sleepy during their first and second weeks.
This is why photographers say it's the best age to take newborn photos in that timeframe, and they advise the mother to feed the baby before a photoshoot. It's because it's easier to tuck the baby into the couple's preferred newborn pose.
Preparing for Photoshoots
To ensure that everything will run smoothly when scheduling a photo shoot, preparing the day before is advisable. Photographers also prefer you bring your baby's essentials, such as milk and diapers.
It is especially important that the baby is in a good mood so as to not waste time, especially if you're shooting outdoors, since natural light is available for a limited time only.
If you're planning to do clothing changes, it's best to bring extra clothes and props that fit the theme of your shoot.
What to Do During Photoshoots
The photo shoot may take somewhere between 1-2 hours, so it's best to feed your newborn an hour before the photoshoot. If your newborn wakes up, it is recommended to take a break and let the mother feed them for as long as they like. You can also mix and match different outfits and props while we wait for the baby to fall asleep.
After that, it's best to relax and let your photographer handle your baby. Sure, it's very concerning to see them touch your little angel if you don't trust the photographer that much, especially if it's your first child.
We understand, but as experts in our craft, newborn photographers work with babies regularly. They are the most qualified people to know how to handle and position your babies. That's why we advise you to let the professionals do your work and just sit back and relax!
Here at Siobhan Wolff Photography, we are also like that. We have dedicated ourselves to ensuring that you have the best experience available within your budget while making your photo shoot a timeless piece of memory you can always look back to. If you're looking for the best photographer available in Melbourne, Siobhan Wolff Photography has you covered.
We offer other services like: Newborn Photography Brighton, Maternity Photography Brighton, Bump to Baby Photography Brighton,- Contact us for more information.