Now that your baby is finally here, it's time for you to proceed with your long-awaited newborn photo session. But wait, are you ready to deal with everything that can happen during your photoshoot — for starters, a fussy newborn?
Finding a professional photographer who specializes in newborn photography can be a great help. But it's still important for parents to also know how to deal with their newborns during the shoot. After all, you don't want images of a crying baby to be included in your first newborn photo session, right?
Here's a simple and thorough guide to help you avoid having too many pics of crying baby in your newborn with parents photography.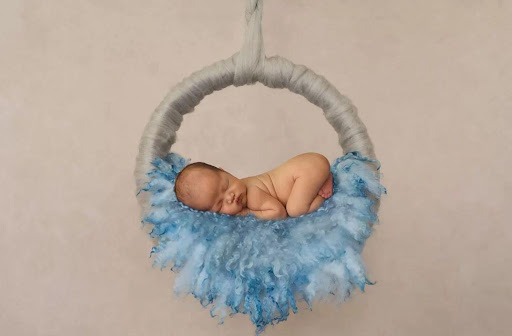 Check What Your Baby Needs
It's normal for babies to cry and feel fussy during a photoshoot. Some parents even end up having a picture of a baby crying in their photoshoot portfolio. When this happens, parents usually feel anxious and stressed out as well — especially the mothers.
The best way to deal with situations like this is to not worry about it at all. Babies cry if they're feeling uncomfortable about something. So, it's best to check if your baby is just hungry or needs to change their nappy.
Once you feed them or give them a nappy change, this will immediately fix the situation. That's why we always advise parents to stay calm and relaxed to avoid making the baby feel even fussier.
Check For Wind Disturbances
Sometimes, babies will continuously cry even after being fed or giving them a nappy change. It is my job as your photographer to try and settle them myself. I do this by checking and ensuring that there are no hidden wind issues around the studio that can make your baby feel uncomfortable or feel pain in their tummies. As a mother, I know how newborns can get very fussy once they start feeling generally uncomfortable.
Keep The Studio Warm
As a professional newborn photographer, it is also my job to keep your newborn feeling comfortable and nice during the photoshoot. That's why I always keep my studio warm and toastie to keep your newborn feeling warm and falling asleep easily.
Wrap! Wrap! Wrap!
I have dealt with a lot of newborns in my entire photography career and I always end up wrapping your baby nice and snug using a swaddle so they feel comfortable and secure almost as though they are in your womb once more. Here are some of the best swaddling ideas you can try for your baby during a newborn photo session.
Always Stay Calm
The best and most important thing to remember during a newborn photo shoot is to stay calm and relaxed. Try your best not to get stressed out once your baby starts getting fussy or won't stop crying. When you are tense, your baby will feel this as well.
Again, knowing how to deal with your baby is very important so keep in mind to check if they are just hungry or need some of your cuddles to calm them. Lastly, give your photographer your complete trust.
Newborn photo sessions do not always go just like what we have planned. But if you are prepared and know how to deal with situations such as a crying newborn, then everything will be okay. Aside from that, working with a seasoned newborn photographer is also an important asset to achieving a successful newborn photo session. So, if you are looking forward to working with a professional newborn photographer, contact us today at Siobhan Wolff Photography.
We offer other services like: Maternity Photography Melbourne ,Bump to Baby Photography Melbourne ,Cake Smash Photography Melbourne. Contact us now!