Knowing and preparing for a maternity shoot is one tough job. But what do you expect in a maternity shoot? Will it be fast? Or will you spend a gruesome amount of time standing? Will it be bad for your health?
If you're looking for tips and tricks on what to expect during your photoshoot for pregnancy, say no more. We're here to help you be the best pregnant mother you will remember for days to come.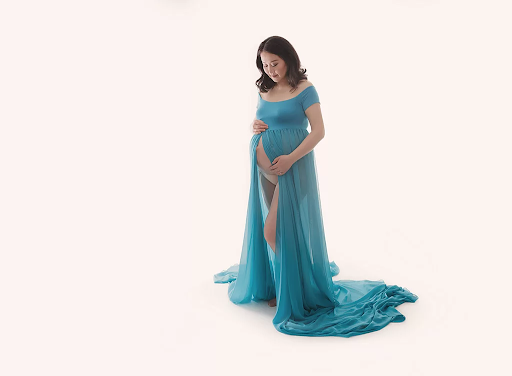 Quality Control
After preparing your hair, makeup and clothing, it's up to the photographer to check if there is anything that can lower the quality of the photoshoot or even hinder the progression of the photoshoot. If it comes to that, the photographer usually has a stylist with them or a wide variety of dresses you can borrow so you can always look your best.
From there on, it's expected to be smooth sailing for you and your photographer. Depending on the intensity of the shoot, it may range from a single hour of image taking to several hours max of post-processing to fully complete your shot.
The photographer will also guide you on posture, body adjustments, and hand placement, among other things.
The best part is that if you feel uncomfortable with a particular pose or angle or are unhappy with your photoshoot's location, you can always bring it up with your photographer. They are obligated to change it up for you.
Family Members
Of course, families during your maternity shoot can also be present and vital to you and your baby. Depending on their relation to your kid, your family members can significantly influence your child's growth.
Seeing family members happy and showing their support to the mother is a welcome idea that every photographer encourages. When visiting their soon-to-be godkids or grandkids, some people like it when their outfits are colour-coordinated, and others like it if they have their style.
However, you can always expect a lot of people awaiting your birth to wear the same outfits in support of you when entering and leaving the hospital. Here are a couple of clothing ideas your family can see on your delivery day!
Enjoying the Process
The last one to expect when doing a maternity shoot is that you'll face never-seen-before stress that can harm your baby! That's why if you're feeling under the weather or something similar, think about maternity photo shoot ideas or pregnancy photo shoot ideas. It's ideal to just stick with the basics and eliminate these unnecessary costs and planning.
If you don't have the time, you can always pay people to do this thinking for you; hair salons and salesladies in department stores are excellent at this job if you don't have any confidence or experience putting it on.
If you're concerned or curious about how much a maternity shoot cost or how much maternity photoshoot price is hourly, here is a website that can help with that.
Here at Siobhan Wolff, we take extraordinary measures to talk to clients, so they know that they're getting the best care and convenience money can buy. Contact us today for your first quality maternity photos if you're an expecting mother!
We offer other services like: Maternity Photography Melbourne ,Bump to Baby Photography Melbourne ,Cake Smash Photography Melbourne. Contact us now!