Booking a newborn photoshoot is easy. But finding the right photographer to work with can be a challenge. That's why we suggest parents always be careful when choosing a newborn photographer to help them with their shoot.
If you're considering a newborn photo session with your little angel, here are some newborn photo shoot tips to help you find a newborn photographer with the right qualities.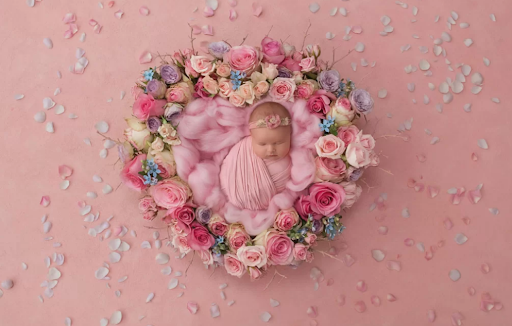 Experience
When you're looking for a photographer, the first thing you need to consider is their newborn photography reviews and experience. You will want to work with someone with good reviews. But above them all, you also need to find someone with a lot of experience.
A photographer with good reviews and experience is likely to be a photographer who has worked with lots of newborns before — which means they will know how to handle newborns perfectly. Experience is very important since they are dealing with newborns so they must know how to hold and position a baby without harming them.
That's why we recommend checking out a photographer's Instagram account or website first to check their About Me section or their reviews to see if they are great photographers with the right skills and attitude.
Style
Photographers have different styles. There are posed photographers and there are lifestyle photographers. You might not find it important but the style of your photographer will have a huge impact on the results of your newborn photos.
Some photographers use a lot of props and accessories and have a better approach to creative photography, while some prefer to do a newborn shoot that is simple and minimalistic. That's why you need to choose a photographer with the same taste and style as yours so you can have the must have newborn photos that you want. You can check this list for some of the best newborn poses and ideas you can try.
Budget
Your budget also plays a great role during your newborn photoshoot since it will help you choose a certain range of photographers and will make finding one easier for you.
Newborn photographers have different rates. Some offer photoshoot packages with a fixed cost and different inclusions, while others are paid hourly. If you're considering a newborn photoshoot, make sure to choose a good photographer whose payment fits your allotted budget.
Vaccination Status
During these tough times, it's very important to choose a photographer who is fully vaccinated — like our photographer at Siobhan Wolff Photography. Newborns are very sensitive, that's why you need to make sure to choose a photographer who follows the right health protocols.
At Siobhan Wolff Photography, we are not only fully vaccinated but we also make sure to sanitize our studio before and after each client to make sure that any bacteria or virus will not stay around. We have a newborn photography setup and props that are safe for all clients — especially babies.
Accredited and Insured
Lastly, if anything goes wrong, you will want to work with a photographer who is accredited and insured. Photographers that are insured can easily help you if certain problems occur during the shoot. Not to mention that accredited photographers are listed on the official list of working photographers around your area.The best way to remember your newborn's first few days is through a newborn photoshoot. Not to mention that newborn photoshoots can also help you have the best newborn photos you can use as decorations for your home or give to your future children as family heirlooms. So, if you want to have a successful newborn photoshoot, make sure to follow all these newborn photo session tips we have prepared for you. Contact us today at Siobhan Wolff Photography so you can have the best newborn photoshoot with your little angel.
We offer other services like: Newborn Photography Point Cook , Maternity Photography Point Cook ,Bump To Baby Photography Point Cook. -Contact us now.